Hey, want to buy a bridge? How about a bridge fuel? It burns cleaner than coal for generating electricity, can heat homes and power a truck or a car. Best of all, we've got an embarrassing surplus of the stuff priced so low it's sinful. It's natural gas from shale, and it's the answer to our energy problem for the next 100 years while we figure out this alternative energy stuff.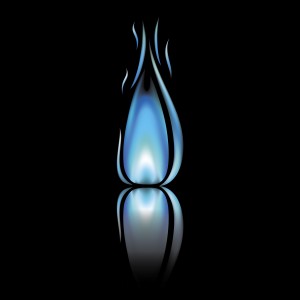 Or not.
The rosy assessments above are based on current consumption levels and an overly optimistic estimate of what we can get out of the ground at anything resembling a reasonable cost. In addition, the dollars don't add up. The fracking that produces shale gas is expensive and when successful yields a short gusher of gas followed by a steep drop off, requiring a re-frack and repeat. It's "an unprofitable treadmill." The sheer number of wells drilled in the fracking frenzy has created a gas glut on the domestic market and, in turn, low prices that cannot support the expensive production model. Most companies producing shale gas are relying on steady inflows of investment cash to support their profit-challenged efforts.
Already used for cooking, heating homes and hot water as well as generate electricity and to provide feedstock for industry, expanding these uses of natural gas and creating new ones – such as in fleet trucking and even personal vehicles – is usually cited as a key way to put the shale gas glut to good use; lowering our national carbon footprint and increasing our energy independence. The big hope for producers, however, is in export. Clearing a few political and regulatory hurdles and building new facilities would allow for natural gas export in liquid form to foreign markets like Great Britain, Northern Europe and even Asia.
All of which would raise consumption levels well above current levels, reducing, in turn, the projected years of supply. Some estimates suggest shale may provide fewer than 30 years of additional natural gas supply when all is said and done. And as the glut diminishes, users will begin to be exposed to the true dollar costs of fracking extraction.
As this process plays out, a major concern is the effect on alternative energy. Another three decades of embracing the fossilized status quo aren't going to help us achieve energy sustainability. People are fundamentally change-averse. Tales of "100 years of cheap energy under our feet" will resonate. And if the hype lures investment capital to shale companies, what does that do to the attractiveness of investment in green tech companies? Will cheaper natural-gas-fired electricity generation put further funding pressure on large-scale solar and wind projects?
If markets pick winners, then it's hard to understand how an embrace of shale gas creates a bridge to a new energy regime, rather than to a familiar dead end. It's time to stop digging for scraps in the past and find a new way forward.