There was lots of passion on display at Tuesday's Clean Technology event at the Harvard Club (disclosure: sponsored by Beaupre and Brodeur Partners).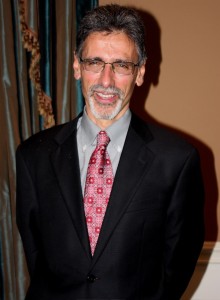 Marc Gunther, Fortune magazine's senior writer and sustainability expert opened the session with a talk called "The clean technology revolution: bigger than the Internet?" He said five pivotal forces will make this a reality: science; scale; stimulus, security and generational change. Here are some Gunther sound bites:
"Cleantech hasn't had its Netscape moment yet."
"The science is so compelling it's hard to turn back."
"This has become personal to them (CEOs). They are, on some level, thinking about their legacies – what kind of world they're leaving for their children and grandchildren."
"This is the growth sector for America."
Gunther moderated a panel of frightful cleantech brainpower: Scott Clavenna, CEO of Greentech Media; Nick d'Arbeloff, Executive Director of the N.E. Clean Energy Council; William Huss, adjunct lecturer at Babson and former COO at XENERGY; Paul Maeder, General Partner, Highland Capital Partners.
Highlights from the panelists:
The pace of change isn't fast enough, but New England is off to "a fantastic start."
If Obama is elected, it will be positive for clean technology, "We'll look back in six months and be amazed."
The revolution will occur via 100,000 "small garages" vs. a Manhattan Project-like effort.
We'll need unprecedented private sector creativity and public sector political power working together like they've never done before.
Investment and growth for cleantech is markedly different vs. the software industry.
The VC industry is ripe for upheaval; a shakeout is looming.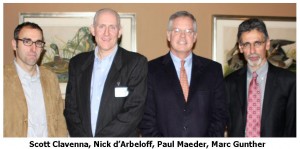 Cleantech VC guru Paul Maeder said "We're going to have to look at new models of cooperation or we'll all go the way of the duckbill platypus."
Nick d'Arbeloff said "Government and policy played no role in the information technology boom, but energy is fundamentally different. The only way to solve our energy problems is to unleash the free market on them, but we also need a government policy foundation."
Clean technology media pioneer Scott Clavenna said "We lost eight critical years. We need leadership from the top, at the White House. We need our (new) President to say, "This is what we're going to do" and then stick with it. It's time for a bold step."
Former XENERGY COO and current Babson Adjunct Lecturer Bill Huss said companies developing energy efficiency technologies "can't find people fast enough to hire into the industry."
Fortune's Gunther cited several examples illustrating how business is capable of playing a critical role in affecting societal change. "Despite the well-known flaws and problems with corporate America, we can see big and certainly small companies being significant drivers of change."
Gunther should know. He's interviewed the likes of Jeff Immelt and Michael Dell and wrote the September 29 cover piece about Hank Paulson. He's a captivating storyteller, weaving fascinating tales about the impact of business on society. Check out his blog at www.marcgunther.com.