A study that came out of Germany this week theorized that investments in renewable energy could pump as much as 600 billion euros into the European Union's economies. The study, by Germany's Institute for Climate Impact Research, forecasts a construction boom as owners retrofit homes and businesses to cut their energy costs, and as electrical utilities upgrade their existing grids into efficient "smart" grids.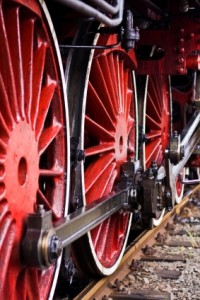 So naturally, that made me think of railroads. Let me explain how the playpen of free association in my mind arrived at that comparison.
The railroads were the first quantum leap from colonial to modern America. Pre-railroad, the U.S. population huddled around harbors and rivers and lakes because they were the best means of transporting goods over long distances. Most of the American interior might as well have been Venus for all the good it was doing us. The massive agricultural plains of the Midwest were so far from major markets that it didn't make economic sense to cultivate them on a large scale. There was no way to get the product to market. Then along came the railroads, and all of a sudden those empty acres in Kansas, Nebraska, Iowa, the Dakotas et al were a treasure trove. The railroads sparked one of the greatest economic expansions in history. As historian Chris Butler puts it on his site "The Flow of History," "By 1900, railroads had virtually revolutionized overland transportation and travel, pulling whole continents tightly together
(both economically and politically), helping create a higher standard of living, the modern consumer society, and a proliferation of new technologies. Although airplanes and automobiles would continue this revolution, it was the railroad that paved the way."
The U.S. government subsidized railroad growth with land grants and military protection. It could have the same role in developing the renewable energy economy. Today, Congress and the White House are debating how much to support renewable energy economy's development. President Obama put $16.8 billion for renewable energy and energy efficiency research and development into the 2008 recovery act. Deficit-conscious legislators in the House of Representatives want to scale that back.
The question is whether federal renewable energy spending is a drag on the economy (through deficits) or a growth path, as the German study suggests. The study's author, Carlo Jaeger, doesn't mince words.
"What we are showing here is that by credibly engaging in the transition to a low-carbon economy through the adoption of an ambitious target and adequate policies, Europe will find itself in a win-win situation of increasing economic growth while reducing greenhouse gases," he writes.
What do you think? Is clean energy investment the next railroad, or interstate highway system, or Internet? Or is it just another debt to be paid off by the next generation?