Cap-and-trade, clean energy standards, cash for clunkers and smart grids are the headline grabbers and fight-starters in the climate and energy bill. These stars of the American Clean Energy and Security Act of 2009 aren't, however, going to save the U.S. from also-ran status in the renewable energy economy. Nothing in those provisions – or at least nothing obvious – confronts the very real possibility of China emerging as the superpower of renewable energy in the short term. Out of the limelight, in the bill's back roads and side streets, lie the gems of hope for America's future as a player in renewable energy, providing the U.S. can weather the Chinese onslaught. And it's going to be a hummer of an onslaught.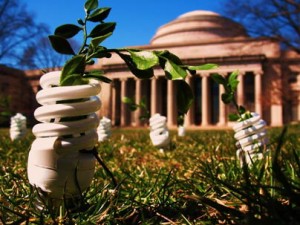 The Chinese government is going after the top spot in renewable energy with a vengeance, and by employing their unique brew of free market talk and authoritarian action, they're probably going to get it. If that makes you queasy, it should. The U.S., already a secondary player in renewable energy behind China and the European Union, is staring at yet another possibility of its energy future being tied to a foreign nation. Specifically, a foreign nation that's also holding much of America's debt.
There's plenty afoot to bear out that pessimistic view. China has targeted wind and solar, the two most promising renewable technologies of the moment. The Chinese government has already created the world's largest domestic wind power market, and they're using it as a base to conquer the international export market for wind turbines. Using its success in textiles, food processing, electronics and consumer goods as a model, China has erected mazes of regulations specifically aimed at screwing foreign companies out of Chinese business. That gives Chinese companies a chance to flourish without competition on their home turf, subsidizing their push into export markets.
Having flashbacks to the Japan Inc. of the 1980s? The gradual demise of GM, Ford and Chrysler at the hands of Toyota and Honda? Well this is worse. Unlike democratic Japan, China doesn't even pretend to play by free market rules. The New York Times reported last week that companies who built manufacturing plants inside China to satisfy domestic content requirements were aced out of the turbine market when the government outlawed turbines of less than 1,000 KW capacity. With tactics like that, it won't be long before Chinese companies are the Honda and Toyota of the renewable energy industry. Next step, a wind farm near you. And solar is next on the agenda.
Even if China didn't have a head start in renewable energy technology production, the U.S. wouldn't be able to compete in volume manufacturing of renewable energy products any more than it could in apparel or consumer goods. China has a lower cost structure based on indentured servitude wages and light regulatory burdens. The U.S.'s winning game is not volume manufacturing of wind turbines or anything else. It's innovation.
That brings us back to the climate and energy bill. There is $190 billion in the bill to fund renewable energy research. From the Apollo program to the Internet, the U.S. government has proven itself a great engine of new technology. That is the real secret weapon in the American renewable energy arsenal – a constant stream of new and better ideas.
The U.S. is the Saudi Arabia of innovation. No country has a better record of new technology development than this one. American universities and research institutes still attract the world's best minds. The bill calls for establishing national centers of excellence in renewable energy technology across the country. Massachusetts took a similar approach in the 1980s under Gov. Michael Dukakis, funding centers of excellence in biotechnology, photovoltaics, nanotechnology and micro processing. Supplementing its disproportionately large share of world-class universities, the centers of excellence helped keep Massachusetts a technology leader. North Carolina had similar success with Research Triangle Park, which isn't a center of excellence per se, but shows how government can effectively prime the private research pump.
China is gearing up to produce today's state-of-the-art wind and solar technology. Let them. There is plenty of profit in developing tomorrow's state of the art. Today's solar and wind technology, for example, isn't all that efficient. Most solar cells convert only 30 percent of the light that hits them into electricity. Wind turbines can't turn light breezes into energy. There are no technologies for large-scale energy storage to even out the production peaks and valleys that make wind and solar unreliable in much of the world. Here's betting the answers to those conundrums are going to come out of American laboratories.
A post script: Lest there seem to be a smack of jingoism in this post, I'll say for the record that I'm all for China turning into a renewable energy superpower. The country is industrializing at a breakneck pace, creating a gargantuan demand for energy. Burning coal and oil to satisfy the demands of 1.3 million consumers portends a dismal future for the environment. Every wind turbine in the Gobi Desert or the South China Sea is an investment in a better world for everyone. As an American and a believer in democratic principles, I'd still like to think that we have a better way of developing a renewable energy economy than China. But as a father and potential grandfather, here's hoping that both countries get there one way or the other.