Often, PR is about driving consensus. Other times, it's definitely not. Sometimes controversial issues are controversial by design. You want a "rational discussion" on climate change? So does ExxonMobil.  How else to ensure that everyone reading, watching, etc., this rational discourse understands first and foremost that there is much to debate and, therefore, the best course of action is to do nothing.
I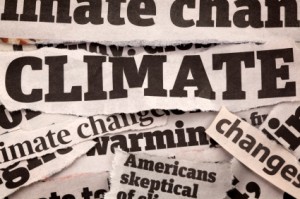 f you have not, you really must take the time to read Naomi Oreskes and Erik Conway's excellent book, Merchants of Doubt. It does a first rate job of detailing the parallels in strategy, tactics, language, funding, organizations and even individuals between the efforts of tobacco companies to obfuscate the link between smoking tobacco and cancer and the efforts of certain industries to promote doubt about human-caused climate change.
Big Tobacco was never interested in proving that smoking cigarettes wasn't addictive or didn't cause cancer. Yes, they made statements to that effect, issued studies and paid for "science" on these topics, but the goal never was to "prove" anything.  The goal was to provide another "side" to the story. Providing a veneer of credibility for that other side by funding studies, scientists and other "experts" fed an ongoing debate which, in turn, justified holding off on doing, well, anything. As the debate churned on, the cigarettes churned out and the toll in health and lives added up. Funding the ongoing rational debate was just a cost of doing business.
Today, the same tactics that kept Big Tobacco in escalating quarterly profits for decades after serious medical concerns were first expressed have been adopted by industries with a lot to lose if an enlightened public were to rationally engage with the well documented science behind anthropogenic global warming. And those tactics are likely to be just as successful.
Why? Because people typically respond to uncertainty with inaction. Why upend the entire economy and Our Way of Life if the science isn't sound or settled? Better to do nothing, than make the wrong decision. Want to paralyze a population? Gin up a rational public debate.
The experts involved in studying climate change believe in the clarifying power of rational debate and the media love to cover a debate (seriously, how many Republican primary debates are we up to now?).  Both likely see this process as the best – and necessary – way to get at the truth of the matter. The parties driving this process, however, aren't concerned with getting at the truth of the matter.
But by all means, insist on a rational debate to hear "both" sides of the climate change issue. ExxonMobil would appreciate it.