Climate Impacts Day is Saturday, May 5
If Earth Day is like a birthday for the planet, Climate Impacts Day is the ominous doctor visit.
Aimed at spotlighting the nexus between climate change and extreme weather – e.g., drought, heat waves and torrential rains – tomorrow's Climate Impacts Day is more about action than observance. Environmental advocacy organization 350.org urges everyone around the world to attend or start actions – rallies, presentations, art projects and more – that Connect the Dots between warming and weather for the mainstream media.
Since talk is cheap and logic is overrated, the common visual thread will be, yes, dots – painted, formed by groups of people holding hands, shot from above, etc. – a gimmick intended to roll up into a powerful multimedia statement. Why the heck not dots, since boring old science doesn't seem to prompt much action. "We'll hold up a mirror to the planet and force people to come face-to-face with the ravages of climate change," writes Bill McKibben, president and co-founder of 350.org.
The organization predicts more than 1,000 Connect the Dots events in 100 countries. My neighbor Micum Davis, an arborist who can scale a tree as fast as any primate on the planet, will be attending one at the Portsmouth (NH) Farmer's Market. Immediately afterward, he'll invite participants to check out an urban garden he's creating from a scruffy parking lot with his wife, Jennifer Wilhelm.
Climate Impacts Day "is an opportunity to bring attention to all the effects of climate change that many of us are already seeing," he says. " I feel like there's no voice for climate change. It's become taboo. It's the elephant in the room. There's nearly a consensus among scientists – basically, there is a consensus – but politically, it's a black hole."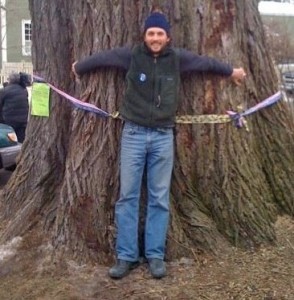 Acknowledging that sacrificing the fossil fuel economy threatens the American way of life, Davis wants to emphasize the positive side of working for climate change. The garden is one example. "There are a lot of positive things we can do that not only happen to reduce carbon footprint, but also build community, build healthy soils and reduce pollution," says Davis. "A whole array of positive activities go into the solution to climate change. It's not just taking money from the consumer and shutting down corporations."
Got a dot you want to connect? Find a nearby event here.