Great things can come from rebuilding after a disaster. Rebuilding downtown Chicago after the 1871 fire started the era of high-rise construction. The great urban spaces of Boston, San Francisco, and even Cleanspeak's hometown of Portsmouth, New Hampshire, arose from fires and earthquakes. They ushered in innovations like brick construction and firewalls to keep blazes from spreading, new sanitation systems, parks and squares.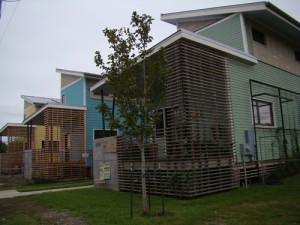 Today's sustainable development advocates view post-Katrina New Orleans as the Chicago or San Francisco of large-scale sustainable development. New Orleans is a unique laboratory for developing technologies, construction methods, business practices and government policies for re-building communities sustainably, goes the green thinking. It's like what happened in Greenburg, Kansas, which rebuilt itself sustainably after a 2007 tornado destroyed the town, but on a larger scale. A forum in New Orleans, next week, "The Green Rebuilding of New Orleans Conference," is one of many attempts over the last four years to chart a sustainable course for the city's future. Organizations like The Holy Cross Project have already begun building sustainable housing in damaged areas.
I want to jump on the advocates' side because I'm a sustainable building freak, not to mention an architecture nerd. I'm just not sure that New Orleans and sustainable development are synonymous.
Even if every newly constructed building in New Orleans is LEED certified, built from recovered materials and blessed by Pope Al Gore himself, it won't be sustainable development because of the larger realities about New Orleans. Can it be sustainable to rebuild vast areas of a city that lies mostly below sea level when scientists say the seas are rising and weather patterns are growing more extreme? A city in a bowl bracketed by a large lake and the mouth of the Mississippi River? A city that has flooded disastrously twice in the last 100 years? A city that needs 148 pumps working continuously to keep it from filing up with water?
Let's face it, if anyone proposed building a city in a spot like New Orleans today, they'd be tasered and put under guardianship for their own safety. The Mississippi and the Gulf of Mexico  are a levee break or a pump failure from reclaiming the city. How much effort and how many resources are wasted when new construction is wiped out by the next catastrophic storm?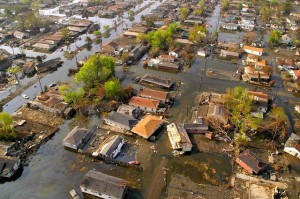 So if sustainability was the only consideration in re-developing the damaged parts of New Orleans, then it would be hard to argue the pro-redevelopment position. There are, however, cultural, moral and social justice issues that weigh in redevelopment decisions. The hardest hit sections of the city were largely low income. Is it morally acceptable for governments to withhold reconstruction aid in those areas because the long-term prospects are uncertain? Flooding destroyed several government low-income housing developments. Is the government morally obligated to rebuild them? Can private lenders be compelled to approve mortgages for new homes in flood-damaged areas when Katrina showed how vulnerable they can be?
The reality is that owing to political and social factors, the damaged Lower Ninth Ward, Lakeview and New Orleans East sections of the city will most likely be at least partly rebuilt through a combination of public and private aid. So it might as well be done sustainably, but under a broader definition of sustainability than has been applied so far. Sustainable construction usually means energy efficiency, non-toxic materials, recovered materials, etc. In the New Orleans context, sustainable also means surviving the next natural disaster. The architect Frank Lloyd Wright created new construction techniques when he designed the Imperial Hotel in Tokyo because earthquakes were a constant threat. It survived a devastating earthquake in 1923 because Wright designed it with: Frank Lloyd Wright's Imperial Hotel
a reflecting pool that provided a source of water for fire-fighting, saving the building from the post-earthquake firestorm;
cantilevered floors and balconies that provided extra support for the floors;
seismic separation joints, located about every 20 meters along the building;
tapered walls, thicker on lower floors, increasing their strength; and
suspended piping and wiring, instead of being encased in concrete, as well as smooth curves, making them more resistant to fracture.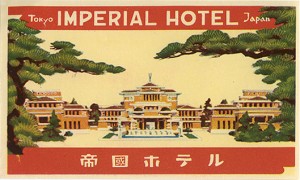 The engineers and architects who rebuild New Orleans have to apply that kind of thinking to the city's realities. Maybe New Orleanians will ride out the next flood in homes that can float on the floodwaters, then settle back into their foundations when the waters recede. Who knows. The point is that sustainability, in this case, must also include survivability.
There's no doubt New Orleans offers a unique opportunity to develop sustainable building designs and methods. Attention to surviving the city's unique, if not hazardous water-bracketed topography will help ensure what rises in New Orleans to replace what Katrina destroyed will be a fitting living monument to the lives lost there, and a testament to American's talent for wringing progress from disaster.