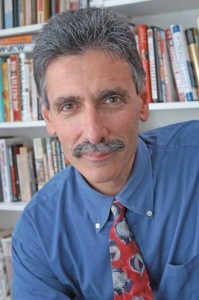 Marc Gunther is one of the most respected thinkers, writers and speakers on business, the environment and corporate social responsibility.
Last year, Ethisphere ranked him # 39 out of 100 "influentials" in business ethics, ahead of Jim Koch, T. Boone Pickens, James Goodnight and Paul Newman. It's a well-earned reputation.
In a wide-brush conversation, I asked him about his early influences, career highlights and how he became enamored with business ethics and sustainability.
Gunther grew up in Croton-on-Hudson, New York. "I was a child of the Sixties. My parents weren't that politically involved, but our Rabbi was part of the civil rights movement; he had marched with Martin Luther King. That inspired me.
"I was an idealist, growing up during one of the most interesting times in history with JFK, Martin Luther King, RFK. Incredible social progress was being made, from the civil rights movement to the women's movement. Vietnam and Watergate were happening. This had a big impact on me."
Gunther graduated from Yale in 1973 with an English degree, but couldn't find a job in journalism. His first gig was with a clean air activist group funded by Ralph Nader. "I inspected boilers in New York City, making sure pollution controls were being met, working with City enforcement groups. It was literally a dirty job."
Then he cracked journalism.
Over the next two decades, he climbed the newspaper ladder, starting with the Paterson (N.J.) News, then The Hartford Courant, The Detroit News, Detroit Free Press and Washington Bureau of Knight Ridder. He covered many topics, but wrote most often about TV, media, politics and business. Gunther also interpreted the Internet in the nineties, writing stories like "What is cyberspace?" and "What is e-mail?"
When Fortune magazine hired him in 1996, he wrote even more about business. "I was beginning to wonder what had happened to my idealistic values. I had gotten off track."
Around the time Gunther turned 50, he wrote a cover story for Fortune called "God and Business."
"I interviewed people at the intersection of religion and corporate America. People like Jim Collins of "Built to Last" talked about business and values. I spoke with a Notre Dame priest who also taught MBAs. These people got me thinking about business in a fresh way. They were treating people well and believed business can – and should be – a force for good, for positive social change."
The story became a turning point for him professionally and personally.
"Until then, I had a cliché view of business. The tension that existed between business and values got me thinking in a fresh way. Suddenly, I was no longer interested in writing about media companies, the entertainment industry, American Idol."
Gunther began writing with "a sense of purpose."
He wrote a cover story about the greening of Walmart and one about Jeff Immelt's efforts to reshape the values of General Electric. "Those were two very interesting reputational turnarounds."
He wrote a cover piece about Hank Paulson, as well as spirituality in the workplace. He authored stories about the business of carbon finance, the rise of corporate social responsibility, the zero-waste movement, genetically-modified rice, environmental activism, corporate governance, AIDS and gay rights in corporate America.
Last December, Gunther (and about 100 others) was let go by Fortune. He calls this experience "a hugely valuable event," because it connected him with even greater numbers of interesting people and opportunities. Gunther likens it to an economic model called creative disruption "where things are destroyed and then new things spring up."
The social media revolution is serving him well. His popular blog is proliferating. Gunther is on Facebook, YouTube and he's started Tweeting (@MarcGunther).
His blog is being syndicated by two of the most influential online environmental voices, GreenBiz.com and The Energy Collective.
Proving "creative disruption" brings good karma to good people, Gunther not only still writes for Fortune, he authored the current cover story "Warren Buffett takes charge" about the Chinese company BYD.
Gunther smiles and in his self-effacing style says, "This could be a first – a laid off reporter writing a cover story for the publication that let him go, four months after it happened."