Successful marketing draws attention to itself, sometimes drawing a bull's eye on its own back.
Case in point is Abercrombie & Fitch, which critics claim has been dousing its products, employees and storefronts with a signature cologne that, it turns out, includes a potentially dangerous chemical. Diethyl phthalate has been linked to sperm damage in adult men and abnormal development of reproductive organs in baby boys.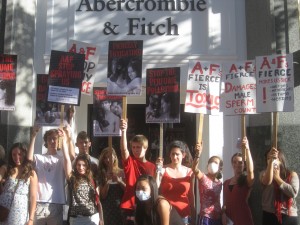 Teens Turning Green marched on Abercrombie's San Francisco store yesterday, calling the store's perfume-igation "toxic trespassing."
"Why," says TTG's overly hip video letter to the Abercrombie CEO, "are we overwhelmed by an unwanted and unasked for odor inside and outside your stores, [one] that permeates our clothing, penetrates our lungs, invades our personal space and occupies our personal consciousness. This is unacceptable."
So, how bad is Abercrombie's "Fierce" for men? It's well below the median in a list of popular fragrances containing secret chemicals (not listed on product labels), according to a report by the Environmental Working Group in May. And the chemical in question is already present in 97 percent of Americans.
That tells us the critical factor in making Abercrombie a big, juicy target is apparently the carpet-bomb scent campaign. Allergy sufferers and chemical-sensitive individuals are built-in sympathizers, as well as parents concerned about Abercrombie's sexualized advertising. Abercrombie is clearly the perfect foil for the Teens, a media-savvy organization with an enviable list of sponsors spreading its outrage Facebook, flickr, YouTube, posters, petitions and more.
They've got everything but their own fragrance.