Unlike the new NIMBYs, selectmen in the town encompassing Massachusetts' Cuttyhunk Island say they will support a wind farm off their shores, a position directly at odds with many of their neighbors to the immediate east on Martha's Vineyard.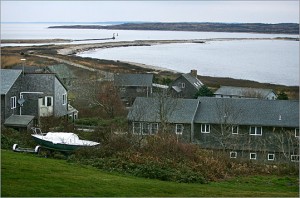 Residents seem to back the decision:
"I don't think you can just say, 'Not in my backyard,' and expect that will be OK,'' said resident Nina Brodeur. "If I had my preference, I'd choose not to see them. But I understand the needs of the state, and if it's not in my backyard, it would have to be in somebody else's. We can't close our eyes and think we're more special than anyone else.''
At issue is Cape Wind, the embattled wind farm proposed for Nantucket Sound. Opponents say the landmark project will be a blight on the horizon and ruin a historic Native American site. The project also help Cuttyhunk residents, as part of Massachusetts' poorest community, pay their utilities:
"I think the wind farm is a great idea,'' said George Isabel, 59, who has lived on Cuttyhunk since 1968 and serves as police chief and harbor master. "People here can't afford to turn on their air conditioners or electric heat. Something has to give, because it's hard to survive. There could be big benefits for us.'' (Source: Boston Globe)
Maine may be next for offshore wind. The state just announced three offshore wind test sites.
A couple other developments in the wind arena:
Endangered bat concerns stall another wind farm
A West Virginia judge just halted progress of an Appalachian ridgeline wind farm because the developer failed to account for endangered Indiana bats on the property. Developers don't have to prove that no bats will die in the project, just that the damage – presumably from construction, displacement and/or turbine blades – is minimized. That means potentially years of surveying, planning and permits. Plaintiffs in the case said the project would kill 6,746 bats of all kinds annually. Source: New York Times.
Report: Turbines are annoying, perhaps, but not sickening
An expert panel issued a report this month questioning the validity of wind-turbine syndrome, the constellation of symptoms – including sleep problems, headaches, dizziness, anxiety, ringing in the ears – sometimes associated with turbine noise.
"There is no evidence that the audible or sub-audible sounds emitted by wind turbines have any direct adverse physiological effects," says the report, prepared by a multidisciplinary panel of medical doctors, audiologists, and acoustical professionals for the American and Canadian wind energy industry associations. The 85-page document does admit that turbine noise can be annoying.
"An annoyance factor to wind turbine sounds undoubtedly exists, to which there is a great deal of individual variability. Stress has multiple causes and is additive. Associated stress from annoyance, exacerbated by the rhetoric, fears, and negative publicity generated by the wind turbine controversy, may contribute to the reported symptoms described by some people living near rural wind turbines."
Source: Wind Energy