Yes, yes it can, if it can do for a malfunctioning ecosystem a fraction of what it's done for information.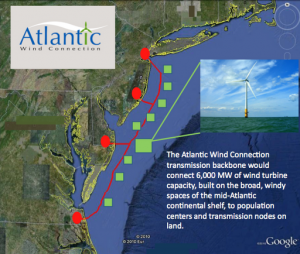 The search giant just invested in an ambitious wind energy backbone for the eastern seaboard. Atlantic Wind Connection aims to collect 6,000 megawatts of offshore wind – enough to serve nearly 2 million households –and deliver it to transmission nodes from New Jersey to Virginia. This project would act as a "superhighway for clean energy," eliminating the need for every wind farm to string its own lines to shore. This is Google's second major investment in wind, following investments in solar and geothermal.
Keeping its own house in order, Google has pledged to become carbon neutral. As part of that initiative, it has built energy-efficient data centers, installed solar installations at its offices, and purchased carbon offsets for emissions it can't prevent. On the demand side, the company has created the Google PowerMeter to help consumers reduce their energy use. Oh, and for what it's worth, the company uses 200 goats to mow an overgrown field at its Mountain View, Calif., headquarters.
The goats are clever, but what's really important about Google is its uncanny ability to execute. Google wasn't the first search engine, but it was the first to actually find what you were looking for. That prompted the world to rebrand the generic verb search (look it up).
Google is the company that put a chink in the armor of the Microsoft Office juggernaut with Google Docs. This is the company that lets you fly to anyplace on their planet (Google Earth) without a plane ticket (you might want to lower your window shades). Then there's that kooky little site that plays videos.
What's next? Google Earth Engine will analyze satellite imagery to monitor changes in forest coverage and other environmental bellwethers. Then there are the cars that drive themselves, and the TV that's also the Internet.

Can Google save the planet? CleanSpeak Google is good. (Google is maybe too good sometimes, at things like managing personal data their servers pick up along the way.) Given Google's feats, it was heartening to see Google's wind investment news last week, especially after a withering review in the Boston Globe of the nation's first offshore wind farm, Cape Wind, which is threatening to come in at $2.5 billion, or 2.5 times the original price estimate. Plenty of other wind projects are also facing strong opposition over cost, use of open land, wildlife impacts, noise and esthetics.
Google is not perfect. Other companies rank higher on greenest company lists, but do you see Dell saving the world? Is HP putting the Dead Sea Scrolls online?
I don't really know if Google can save the world. I do know the planet isn't out of the woods yet, and harvesting wind energy on a continental scale would sure be a nice start.