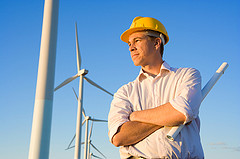 There's an abundance of guilt being a Baby Boomer these days. Our anticipated disproportionate drain on healthcare, Medicare, social security, etc. as we ebb into retirement has made us a pariah generation … a socio-economic time bomb of sorts.
So it was some comfort to read a new report from the Council for Adults and Experiential Learning (courtesy of BusinessGreen.com) on how Baby Boomers may provide the critical link to attaining a green economy.
How Boomers Can Help the Nation Go Green contends that green jobs are a natural fit for boomers seeking "encore careers." Our professional skills, life experience and business savvy match up perfectly with the unmet needs of growing the green economy. And our generation is too restless and purpose-driven to adopt the more sedate retirement lifestyles of our parents, according to the report:
The 20th century vision of retirement filled with endless leisure is giving way to what think tank Civic Ventures calls a "new form of practical idealism: real jobs tackling real problems and making a real impact."
It was even more surprising to learn – given our current unemployment woes – that experts expect skilled labor shortages across all segments of green industries, and that skilled boomers are best suited to plug the labor gap. In other words, boomers can be a catalyst for both green job creation and fulfillment.   The report says the three big areas of encore career opportunities will be in energy efficiency (e.g. energy auditing and weatherization), clean energy generation (e.g. solar contractors), and conservation (e.g. sustainability consultants). Though I personally believe there's a lot of IT and engineering brain power the boomer generation could bring to emerging fields like the smart grid as well. But who am I to argue?   The report should also be an eye-opener to green technology marketers, who have largely ignored boomers in favor targeting their messaging towards genXers and millennials. If you want to attract the best people, you've got to talk to the best people. They forget that it was boomers who gave the world Earth Day, green buildings and granola.